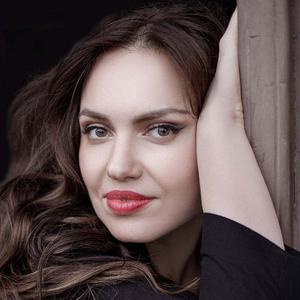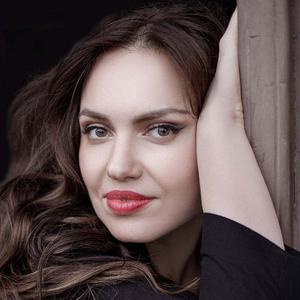 Maria Bayankina
The season of 2020/21 began for Maria with the premiere of Rimsky-Korsakov's The Snow Maiden (September 2020, conductor Valery Gergiev), where she sang Kupava. Maria made two more debuts in premieres this season: Rosalinde in Die Fledermaus by Johann Strauss Jr. and Giulietta in Les contes d'Hoffmann by Jacques Offenbach.
Maria Bayankina is a member of the Mariinsky Opera Company from the season of 2019/20.
That season she appears at significant international venues as Franchesca in Rachmaninov's Francesca da Rimini in Concertgebouw Amsterdam (September 2019, conductor Stanislav Kochanovsky), Nastasia Filippovna in The Idiot by Weinberg in Bolshoi Theatre (November 2019, Moscow), as Tatiana in Tchaikovsky's Eugene Onegin in Teatro dell'Opera di Roma (Roma, Italia), with James Conlon (February-March 2020), and later she expected to appear in that role in the Lausanne theater. She took part in the grandiose Asian tour of the Mariinsky Theatre with maestro Valery Gergiev, performing in the largest halls of China (NCPA) and Japan (Santori Hall) as Maria in Tchaikovsky's Mazepрa (November 2019), debuted brilliantly in the title role of The Legend of the Invisible City of Kitezh and the Maiden Fevroniya by Rimsky-Korsakov in the Mariinsky Theatre (October 2019).
The season 2018/19 was marked by two significant debuts in Tchaikovsky's Mazepрa (broadcasted life on MEZZO-Chanel with Valery Gergiev) and Puccini's La fanciulla del West (premieres of Arnaud Bernard' productions in Mariinsky Theatre, conductor Valery Gergiev). Also Maria made part of soprano in Les Noces by Stravinsky with maestro Charles Dutoit on Martha Argerich's Festival (Laeiszhalle, Hamburg), participated in great gala-concert with Sichuan Symphonic Orchestra, Chengdu.
She successfully debuted in Mariinsky Theatre in January 2013 as Violetta Valery in La Traviata with Valery Gergiev. She also has brilliantly sung in Mariinsky premieres of Eugene Onegin (2014), The Idiot (2016).
Her repertoire at the Mariinsky Theatre is very large and includes the leading soprano roles: Tatiana (Eugene Onegin), Violetta (La Traviata), Minnie (La fanciulla del West), Aida (Aida), Maria (Mazeppa), Iolanta (Iolanta), Fevronia (The Legend of the Invisible City of Kitezh and the Maiden Fevroniya), Kuma (The Enchantress), Countess Rosina Almaviva (Le nozze di Figaro), Corinna (Il viaggio a Reims), Rusalka (Rusalka by Antonín Dvořák), Volkhova (Sadko), Kupava (The Snow Maiden), Militrissa (The Fairy tale on tsar Saltan, two last operas were recorded by maestro Valery Gergiev in 2014 with Maria's participation), Nastassya Filippovna (The Idiot), Dunyasha (The Station Master); and also in concerts: Elektra (Oresteia), Imogene (Il pirata), Liza Brichkina (The Dawns Here Are Quiet), Donna Anna (The Stone Guest), Masha (Dubrovsky), Mariana (The Cossacks by Leonid Klinichev), The Ugly Duckling by Prokofiev, soprano solo in The Bells by Rachmaninov.
From 2011 to 2019 Maria was a soloist of Mariinsky Academy of Young Singers.
With Mariinsky Academy under the direction of Larisa Gergieva she has appeared in concerts at leading European venues in Milan, Rome, Bari, Stockholm, Venice (Teatro La Fenice), Vienna (Odeon Theater), Saint-Tropez, Cannes and London (Wigmore Hall) among other cities. The singer regularly takes part in the Moscow Easter Festival, the Stars of the White Nights festival, Denis Matsuev's festivals Stars on Baikal, Crescendo, and Denis Matsuev & Friends.
Maria Bayankina toured with the Mariinsky Theater all over the world, performing the most significant and title roles: Tatiana (Eugene Onegin) in Rohm Theater (Kyoto) and in Tokyo Bunka Kaikan with maestro Valery Gergiev (2016), Nastasya (The Enchantress) in Teatro di San Carlo in Naples (2017), Tatiana (Eugene Onegin) and soprano part in The Bells by Rachmaninov with Valery Gergiev in Festspielhaus at the Baden Baden Festival (2017).
3rd prize at the International Nadezhda Obukhova Young Opera Singers Competition (Lipetsk)
2012
3rd prize at the International Competition Competizione dell'Opera (Uzbekistan)
2014
3rd prize at the International Young Opera Singers' Competition in Memory of Maxim Mikhailov (Cheboksary)
2010
grant from the Wagner Foundation
2011
1 st prize at the All-Russian Shebalin Young Vocalists Competition (Omsk)
2012
Privileged partner of the Bolshoi Theatre —
GUM