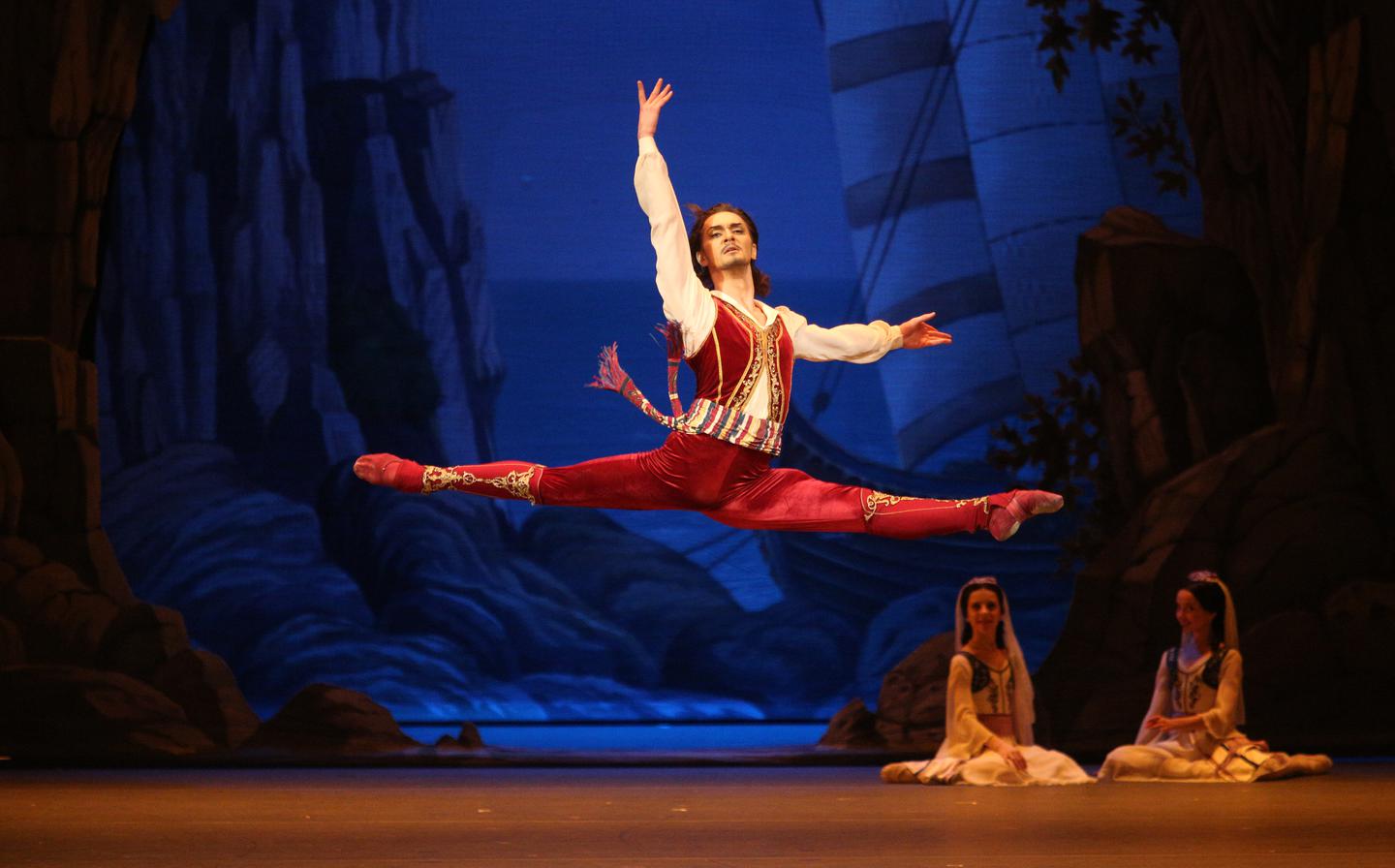 About the performance
The premiere of the ballet Le Corsaire took place of the 23rd of January 1856 at the Paris Opera. The libretto, based on the poem by G. Byron, was written by Jules Henri Vernoy de Saint-Georges and the choreographer of the production Joseph Mazilier. The music was composed by the author of Giselle, Adolphe Adam. In 1867, Pas de fleurs to music by Leo Delibes was also included in the ballet.
Two years after the world premiere, on the 12th of January 1858, the ballet was shown in Russia for the first time: Jules Perrot transferred it to the stage of the Bolshoi (Kamenny) Theatre in St Petersburg, having kept the Parisian libretto but renewed the choreography. In the same theatre season, Marius Petipa choreographed Pas d'Esclaves to music by Pyotr von Oldenburg for the first scene and it started the tradition of including so called additional pieces to this ballet, numbers of which have been collected in excessive quantities over its long stage life.
Premiered on June 21, 2007.
Libretto by Jules Henri Vernoy de Saint-Georges and Joseph Mazilier edited by Marius Petipa
Choreography: Marius Petipa
The Bolshoi Theatre production

Use is made in the production of music by Leo Delibes, Cesare Pugni, Pyotr von Oldenburg, Riccardo Drigo, Albert Zabel, Julius Gerber.
Music dramaturgy conception — Yuri Burlaka
Score restored by Alexander Troitsky
The original score by Adolphe Adam/Leo Delibes for Le Corsaire has been made available by L'Opera national de Paris from the archives of La Bibliotheque nationale de France
The choreographic notation has been made available by the Harvard University Theatre Collection
Evgeny Ponomaryov's costume sketches (1899) used in the production have been made available by the St. Petersburg State Theatre Library
Synopsis
Act I
Scene 1
Medora is Kidnapped
The bazaar square. The beautiful slave-girls who are up for sale, sit awaiting buyers; here too throngs a crowd of Turks, Greeks, Armenians who are examining the wares brought from all corners of the earth.
A band of corsairs appear in the square, led by Conrad. He has evidently come to the bazaar to carry out his secret plan to meet a certain beautiful stranger.
Medora, the ward of bazaar-owner Isaac Lanquedem, comes out onto the balcony of her guardian's house. Seeing Conrad, she quickly makes a selam* out of the flowers she has to hand and throws it to him. The latter, reading the selam is delighted, because now he is convinced the beautiful Medora loves him.
Privileged partner of the Bolshoi Theater —
GUM